A 16-year-old Russia starlet plucked from obscurity by Chelsea has described his time at the club's Cobham training ground as 'a fairy-tale'.
Roman Emelianov was discovered when Roman Abramovich led a Chelsea scouting mission to Konoplyov Academy in Togliatti, 700 miles east of Moscow and most famous as the home of Lada cars.
Personal recommendation: Chelsea owner Roman Abramovich
The teenager is a midfielder for the Russian Under 17 team and also plays for second division outfit FC Togliatti. He was pointed out personally by Abramovich as the most talented player of his age.
'For me it's like a fairy-tale,' Emelianov told a Russian newspaper. 'At first I couldn't believe it was happening to me.
'Last summer, Togliatti was visited by a delegation from Chelsea headed by Roman Abramovich.
'They watched me play in two matches. Later Abramovich came over to me and told me to begin learning English.
'I can't sign a professional contract in England until I'm 18. I'm going to train with Chelsea youths for another week or two and return home. But they say they will follow my progress and invite to training camps here four times a year.'
Asked what impressed him most in London, Emelianov said: 'I won't forget a dinner Roman Abramovich invited me for.
'It was so unusual for me that I even felt a bit uncomfortable. Also I had a chance to play against Michael Essien.
'He is recovering from injury and they arranged a game for him involving two teams of Under 18 players. We played a match and Michael's team lost to mine 7-1.
'I was surprised that he's so small. On the telly he looked taller to me.'
Hiddink hails character
Blues boss praises side after Fratton Park triumph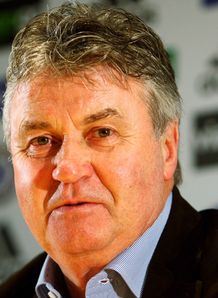 Chelsea manager Guus Hiddink praised his side's mental strength and character after they beat Portsmouth 1-0 at a rain-soaked Fratton Park.
A Didier Drogba strike 11 minutes from time was enough to give Chelsea all three points and keep their faint title hopes alive.
The win keeps the Blues second and moves them to within four points of leaders Manchester United, although the champions have two games in hand.
The Dutch boss was understandably pleased with the victory, but especially after the hosts had numerous good chances to win the game themselves.
"It's good, the team are mentally strong, the team showed a lot of character," he told Sky Sports.
Risks
"I had prepared my third substitution for the 75th minute and we might have taken some risks but the goal came at a good moment."
Hiddink was also pleased that his side had applied pressure to United ahead of their fixture away at Newcastle on Wednesday.
"The pressure is on to go for the championship, when you are chasing its good to keep the pressure on," he added.
The Russia national team boss also found time to praise his match winner Drogba as the Ivory Coast international claimed only his second league goal of the season.
"He is the man in the team who's leading who's mentally strong," Hiddink added.
"He is enjoying his football and enjoying his training. He had a difficult night and he had a slight chance and he took it."
United boss Ferguson wary of Chelsea 'traps' as champions plot their title defence

Sir Alex Ferguson insists Manchester United 'won't fall into any traps' after claiming that Guus Hiddink had tried to unsettle the Premier League leaders by saying Chelsea can win the title.
The Blues boss spelt out his belief that his team can overhaul United in the table even though they are seven points behind the champions who have a game in hand.
But Ferguson is sure his team can take the pressure and said: 'You hope to disturb your opponents and I have done it myself because you hope to get nearer.
Focused: Sir Alex Ferguson
'But we won't take anything lightly and we play Newcastle on Wednesday knowing that they are fighting for survival and that it won't be easy.
'It will be nip and tuck for all teams in the division, so we will not be falling into any traps.'
United are unbeaten in the League since losing 2-1 at Arsenal in November but Ferguson dismissed the idea that the title race was over.

The manager said: 'We have lost Leagues in March and April before and we have also won them by going on fantastic runs. I think we will drop points before the end of the season but I also believe others will, too.'
Inter owner unsure of Mourinho future
Inter owner Massimo Moratti says he is delighted with Jose Mourinho – but hinted that he may not remain at the club long-term.
Despite dropping two points in the 3-3 draw with Roma on Sunday, Inter remain seven points clear at the top of Serie A and are widely expected to retain the trophy.
However, Mourinho has had some difficulties in adapting to life in Italy, with various disputes with the press and rival managers, and some supporters have not been convinced by his style of play.
The Inter boss recently revealed that he intends to return to Chelsea at some point and, while Moratti confirmed he is happy with his work at the club, he suggested that he does not know if he will remain in Italy for an extended period.
"We are very satisfied with Mourinho's work with us," he told Sport Express.
"When I discovered that there was an opportunity to get him, we just went for it, and he was very happy to accept.
"When he signed the deal, both parties were extremely satisfied, and we both still feel the same."
Asked how long Inter hoped to hold onto Mourinho, Moratti said: "It's not important.
"What is important is that, for as long as he works for us, he delivers trophies every year."
With Inter already dominating Serie A, Mourinho was reportedly brought to the club to boost the side's chances of winning the Champions League.
However, Moratti knows all too well that knockout competitions rely on an element of fortune and is making no demands.
"Of course, for us it would be extremely important to win the Champions League," he said. "The tournament is significantly different from the league in that a single game has so much more importance.
"In the league, it is spread over a longer period of time, so the result is less dependent on the mood and state of the team on any particular day.
"Luck is a much less important factor in the league, but that takes nothing away from the Champions League or our desire to win it."
Inter travel to Old Trafford next week for the second leg of their clash with Manchester United.
The Italian side struggled for long periods at the San Siro with former Portsmouth midfielder Sulley Muntari particularly poor, but Moratti feels they have every hope of getting a positive result in the second leg.
"The first leg was extremely difficult for us, but the main thing was that the visitors were unable to score at the San Siro," he said.
"Everything is still in our hands.
"In defence of Muntari, I would say that he usually plays better."
Modric tells Ron to quit acting!
Tottenham ace Luka Modric has hit out at Manchester United's Cristiano Ronaldo over his over-theatrical antics on the pitch.
Midfielder Modric was on the losing side in the Carling Cup Final at the weekend in which Ronaldo scored in the penalty shoot-out to give Sir Alex Ferguson his second title of the season.
Ronaldo slammed referee Chris Foy after the match for giving him a yellow card after the Portuguese winger dived inside the Spurs' box searching for a penalty.
Speaking to the Daily Mail, Modric said: 'He's an excellent player, but he really overdoes the theatrical bits.
'In England, where fairness is especially kept in mind and where a masculine, fair game is the law, such whining stands out even more. I don't know what good it will do him.'
The Croatian playmaker also revealed why he was not one of the penalty-takers and assured Spurs fans that his future is at White Hart Lane.
Modric added: 'Redknapp asked me how I felt. I wasn't among the first five strikers, but I would have had a go if we had gone into sudden-death.
'I wasn't too thrilled about that, because I have to do everything to overcome that fear. There is no point in it becoming a chronic frustration.'
When quizzed about his future, Modric declared: 'Leave those stories alone, I've just arrived.'
Spurs take on Middlesbrough tonight with three points likely to steer either team further away from relegation troubles.
Cuellar: Chelsea deserve to be Champions!
Carlos Cuellar believes Chelsea Football Club are the best team in England.
The Blues may be some seven points behind Manchester United in the race for the title, but they have a fan in Aston Villa's Spanish defender.
"The team that has made us suffer the most is Chelsea. They have quality, speed, mobility, they keep possession," Cuellar told AS.
"Manchester United are very good, but they have been lucky and have won games when they have not played well."