Bosingwa remains upbeat
Blues ace sets sights on silverware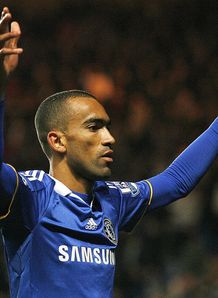 Jose Bosingwa envisages Chelsea will enjoy a successful climax to the 2008/09 campaign.
The Blues remain in the hunt for Premier League and UEFA Champions League glory and are desperate to avoid ending a second consecutive season empty-handed.
Sitting four points behind league leaders Manchester United, albeit having played a game more than their rivals, the Blues appear well placed to launch a title tilt.
They have also progressed safely through to the quarter-finals of Europe's premier club competition and will be looking to go one better than last season's runners-up spot.
Bosingwa is confident Chelsea will get their hands on at least one piece of silverware this term, with the Portuguese full-back believing the club have found form at just the right time.
"After recent results, the spirit in the squad has risen and we are playing much better," he told the Portuguese media.
"The mentality of the squad has changed and that is partially due to the arrival of (Guus) Hiddink.
Positive
"We now use a different system and have improved as an attacking force.
"The return of (Didier) Drogba to top form is also crucial for us. I think he is very happy at the moment and that is positive for us. He is one of the best strikers in Europe and his quality is unquestionable."
Bosingwa admits the club's disappointing start to the season under former boss Luiz Felipe Scolari affected team morale, but is confident Hiddink can bring the good times back to Stamford Bridge.
"Although it was sad, what happened under Scolari, that is all in the past now," he added.
"Our only interest now is to play well for Hiddink and to do our best in all competitions.
"A club like Chelsea is built to compete at the latter stages of competitions like the Champions League."
Juve ready to go with £11m Flo
MALOUDA ... wanted in Italy
JUVENTUS are preparing an £11million summer bid for Chelsea star Florent Malouda.
The Italian giants will swoop for the French international midfielder after making contact with his representatives.
Juve have targeted Malouda after Czech Republic legend Pavel Nedved, 36, announced last month he will retire at the end of this season.
A top source at the Turin club said: "We have been looking at a number of options and Malouda is very high on this list.
"Let's see what happens at the end of the season."
Malouda, 28, was set to stay on at Chelsea under old boss Big Phil Scolari but is now considering his options.
The France winger is close pals with striker Didier Drogba, whose Blues future is also in question.
Since new Chelsea gaffer Guus Hiddink took charge in February, Malouda has only started two games.
He moved to Stamford Bridge from Lyon for £13.5million in July 2007 but has only shown glimpses of his talent.

Flo: Michael is Essential for us
COMEBACK KING ... Michael Essien
FLORENT MALOUDA has backed Michael Essien to propel Chelsea to glory.
Ghana star Essien helped Chelsea to regain second place in the Premier League with a first-half winner against Manchester City on Sunday.
The victory was their fourth straight win under coach Guus Hiddink.
And France winger Malouda believes Essien's return has given the Blues a huge boost.
Malouda said: "He can make the difference.
"We are still trying to win three titles so we know that we will have a lot of games.
"Michael has that spirit, he has worked a lot to come back.
"I hope he will keep on scoring, help the strikers to score and improve our game.
"It's really important for us to see that after those months he spent working every day, to come back and be fit again is good.
"You can see his energy, his spirit and commitment to the team.
"He helps the game for the strikers because he keeps on running, gives good balls and yesterday he scored.
"He has a positive attitude and he gives a lot to the team.
"When you spend five months injured, you want to prove that the time you spent on the sidelines is not lost time.
"He will help all the players in the squad."
Malouda was also delighted to see Liverpool beat leaders Manchester United.
He added: "There is a big hope for us because of the result on Saturday.
"That victory will give hope to the other teams that play United because even if we win all our games we have to hope they fail and lose points."

Deco KO blow hits Blues bid
RETURN ... Deco was back in action against Manchester City
DECO could be out for the rest of the season with a niggling hamstring injury.
The Chelsea ace has been troubled by the problem for the last two months and was substituted in the first-half against Manchester City today.
He was making his first start since January and Hiddink thinks it is very doubtful that Deco will return this term.
Hiddink said: "He was fit and worked hard, but after 20 or 25 minutes he had this problem again, so he will be out again for a while.
"I think Deco will not be recovered very shortly.
"He'll have to be very fit to come back this season.
"I have my doubts to be honest but let's see what happens."
CHELSEA OFFLOAD DECO TO MADRID
Deco could have played his last game for Chelsea with Atletico Madrid lining up a £5m summer move.
The 31-year-old midfielder picked up a hamstring injury at the weekend which could see him ruled out for the rest of the season.

But La Liga high-flyers Atletico want to take former Barcelona star Deco back to Spain.

Deco only arrived at Stamford Bridge in the summer in an £8m move from the Nou Camp as Big Phil Scolari's main signing.

But the Portugal international has struggled with both fitness and form.

Atletico's sport director Jesus Garcia Pitarch is believed to have already spoken to Deco's agent Jorge Mendes according to sources in Spain.

It is unlikely, however, that any decision will be taken by Chelsea to sell the player until the summer because of the speculation over who will become their next permanent manager.

Guus Hiddink still maintains that he will not carry on beyond the end of the season due to his commitment to the Russian national team.

But Roman Abramovich is likely to cut his losses on the ageing midfielder, given that Chelsea hope to raise any transfer funds from players sold at the end of the season.

The player himself is eager to get back from injury before May to try to have a say in the final stages of the season.

Barcelona defender Dani Alves insists he will not be leaving the club this summer despite reports linking him to Chelsea.
You'll never buy John Terry


LOYAL ... Guus Hiddink reckons Terry will be a Blue 'forever'
MOST things in football can be bought — including clubs, players and loyalty.
But according to Guus Hiddink, John Terry is the exception to the rule.
The Chelsea captain is coveted by mega-rich Manchester City but JT's love for his club is stronger than the lure of big bucks.
And it is his emotional attachment with the Blues which will see him end his career where he started it.
City, managed by Mark Hughes, made an enquiry for the England skipper last December but it was rejected out of hand by Chelsea.
And new Stamford Bridge boss Hiddink does not believe they are in danger of losing their on-field leader. He said: "I'm not in a position to talk about City's enquiry but John made a very clear statement — that he is a Chelsea man and wants to stay a Chelsea man.
"I'm not the money man but the club made it very clear that they want to continue 'forever' with John.
"Some players are brought up within this club so it would be difficult to see him leave. There's also a kind of history with him."
But Chelsea were more than happy to accept around £20million from Sparky's City side for Shaun Wright-Phillips and Wayne Bridge. Since last summer, Blues owner Roman Abramovich has become an interested spectator as the Arab billionaires in charge at Eastlands have become the new Chelsea.
City outbid Red Rom to bag Robinho for £32.5m from Real Madrid last August and followed that up with an unsuccessful world-record £105m bid for Milan's Kaka.
But Hiddink voiced his discomfort at astronomical bids for players.
The Dutch gaffer said: "I'm rather amateur in this. Then you go to a philosophical approach — is a human being worth £1 or £200m to perform?
"Is it worth spending that money? Some people might think so but I don't have the right answer on that.
"With people who invest money in the clubs, of course it's a decision. But I don't care if it's £100m or £10m.
"If I can have good players then the next step is whether the other management think it's responsible to invest so much.
"Yes, it's immoral but where are the boundaries? Is it £10m or £100m? It's difficult to say."
Hiddink is considering resting defender Alex for tomorrow's lunchtime match and starting with the fit-again Ricardo Carvalho.
By then, Chelsea will know the result of today's titanic showdown between Manchester United and Liverpool so will know what they must do to stay in the title battle.

Terry: Forget about it, City
BLUE SUNDAY .... John Terry celebrates after Michael Essien scored against Manchester City
JOHN TERRY has told Manchester City to forget about signing him.
The Chelsea and England skipper insists he wants to spend the rest of his career at Stamford Bridge.
Terry, who was linked with a big-money move to Eastlands, said: "I can't ever see myself leaving Chelsea - I love this club.
"I've been here since the age of 14 and I never want to leave.
"I've done a statement because there was some speculation a few months ago and that's what I'm putting in it - I never want to leave Chelsea football club, simple as that."

Chelsea starlet offered tempting proposition
Liverpool and Manchester City are both monitoring Chelsea's exciting defensive prospect Michael Mancienne and could move for the under-21 international in the summer, according to The Times.
The 21-year-old, who spent the first half of the season on loan at Wolves, has seen his star rise this term and was even the subject of a surprise call-up to the England squad at the end of last year.
The youngster is expected to begin contract negotiations at Stamford Bridge at the end of the season but having failed to secure regular first team football ahead of established figures such as John Terry, Ricardo Carvalho and Alex, the suggestion is that he could find his head turned by other offers.
Manchester City in particular would have the financial power to make an attractive offer to Roman Abramovich and with other a proven track record of givin young English defenders a chance at the highest level they represent a tempting and exciting project to join.
Drogba rules out Manchester City move
Didier Drogba will not be joining Manchester City Football Club in the summer.
The Ivorian striker is out of contract at the end of next season and has been linked with a move to City, but he insists his immediate future is at Stamford Bridge.
"The only thing I can say about my commitment is that nobody can question it. Not even the Chelsea fans," Drogba told Setanta Sports.
"They cannot complain about my commitment. Sometimes as a man you take decisions or say things that turn out to be mistakes.
Arsenal boss Wenger backing Tottenham to beat Chelsea
Arsenal boss Arsene Wenger believes Tottenham could end Chelsea's title bid this weekend.
He told arsenal.com: "I watched the [Villa v Spurs] game. When you are in a position where you absolutely have to win the game it makes the game more difficult. When you are 1-0 down that becomes even more difficult.
"Spurs are a good team, they have shown that they can beat anybody in the league on their day. I feel they are improving as a team and that's why they can make it difficult and I think they have a chance against Chelsea on Saturday."
"As a human being we make mistakes and sometimes you have to apologise. But I've said before I will honour my contract and I will stick to my word.
"I am very happy at Chelsea right now."