REACTION: GOING GOAL DOWN HELPED
Posted on: Wed 11 Mar 2009
In the end two goals from players who have endured more than their share of injury frustration in the past 12 months were enough for a place in the Champions League quarter-finals, but was the first goal scored by Juventus just as important?
That was the suggestion from Didier Drogba after Chelsea had completed an Italian job in Turin, the Ivorian joining Michael Essien on the scoresheet, adding to his solitary strike against Juventus at Stamford Bridge.
It's all coming good for the centre-forward following his prolonged recovery from a knee problem. Last night's goal, a fourth in five games, just about ended the resistance of Claudio Ranieri's side who became the first Serie A side to score in the three first knockout stage ties against Barclays Premier League opposition.
That was when Vincenzo Iaquinto netted after 18 minutes with Chelsea struggling to get out the starting blocks.
'We did not know really what to do - if we had to attack or let them come at us and we play the counter attack,' admitted Drogba on the early stages of the game.
'But when they scored, we decided to play our game and I think it was a good thing that they scored. You always start wanting to win the game but at some points it was difficult to make the decisions. I think the goal that they scored, it really helped us.
'It was a good result for us in the end,' he reflected, 'but we had good opposition and they did their best to do everything to qualify. We had to play a very good game.'
As Chelsea improved heading up to the half-time interval, Drogba had a free-kick 'goal' controversially ruled by the linesman not to have crossed the line. Shortly after, Michael Essien did manage to bundle the ball over the line.
'It was very important,' Essien said of the goal that capped his first Champions League game of the season. He played the first 65 minutes.
'It has been a long season for me, being injured, but I am happy to be back and I am very happy with the result today. I was a bit tired when I came off but I am fine now.
'It is definitely great that we can come here and go through playing away. I am now looking forward to the quarter-final.'
Essien's away goal was crucial to the tie but there was more tension yet when Juve were awarded a second-half penalty for handball.
'The referee gave a penalty, I think he was right but he did not know who touched the ball so that is why there was a bit of confusion in the box,' explained Drogba who soon went up the other end to score and give Chelsea breathing space.
Gianluigi Buffon, Juventus's World Cup-winning keeper believes the Chelsea number 11 made a big difference to the outcome of the tie.
'When you weigh up the performances in the first and the second legs, Drogba showed beyond doubt he is a striker of true international class,' the Italian told uefa.com.
'He would make the difference to any side in the world. Their first goal was a great shame. Perhaps we didn't play the last few minutes of the first half too well. There was a world of difference between going in at half-time 1-0 up or level at 1-1.'
'It was a very good result and I am really happy to play again and to have my good moments,' summed up Drogba.
'I am happy for the fans that we go to the quarter-finals and it is good for the team. This draw for us is like a victory and when we play like we did today it is difficult to beat us.'
Chelsea's Michael Ballack Poised For Bayern Munich Return – Report
The inclement financial climate is even curbing the spending of money-bags Chelsea and there could be a summer exit for Michael Ballack amongst others. Speculation is linking him with a return to Bayern Munich.
Guus Hiddink has got Chelsea back on track on the pitch but it seems that even the London giants are not immune to the credit crunch and will have to trim their playing staff for next season
"We haven't properly got together to talk about summer transfers yet but I think that we could expect that several players will leave and that several players will come in," chairman Bruce Buck told the
Daily Mirror
.
"I don't know whether that is three, four or five, but something in that kind of neighbourhood, so we can expect a handful to leave."
As the club look to reduce the Premiership's highest wage bill of £130 million a year, it is being reported that Michael Ballack could be one of those to exit Stamford Bridge in the summer.
Speculation has already arisen as to Ballack's next destination and a report in
The Guardian
suggests that he could be set for a return to former club Bayern Munich.
His contract expires this summer so he would be available on a free and he would quickly be welcomed back at the Allianz Arena. Bayern still need world-class players if they are to compete at the highest level in Europe.
Abramovich should not have lost Mourinho and now he can't afford to let Hiddink go

If Roman Abramovich has not got everything in place in Russia to allow him to keep Guus Hiddink next season, he had better hurry up.

Chelsea have consistently maintained the Dutchman will return to his job as Russian national coach full-time in the summer, but the feeling outside the club has always been they have been keeping up appearances.
Upsetting the delicate political balance in owner Abramovich's homeland, where he is governor of the remote region of Chukotka and provides a large chunk of the football funding, apparently wouldn't take much and is something he is acutely aware of.

Scroll down for more
Top man: Guus Hiddink
Yet if Hiddink continues to guide Chelsea in the right direction the groundswell of support behind him will build to such a level that Abramovich will find himself in a no win situation.
The manager may not have enjoyed quite as much success in the past as his reputation suggests but he has got off to a flyer at Chelsea and with progress in all the available competitions, he is endearing himself to the supporters.
The players are already calling for him to be kept on too with Petr Cech speaking out after the club went through to the Champions League quarter finals at the expense of Claudio Ranieri's Juventus.

So the plan revealed by Sportsmail to put Dick Advocaat in Hiddink's place for Russian needs to be executed, and fast.
For Abramovich to lose one popular manager (Jose Mourinho) could be considered misfortune, but to lose two looks like carelessness.
'Russian Ronaldinho' a step closer to joining Chelsea following Moscow talks with Abramovich

CSKA Moscow boss Zico says he will not stand in the way of Yuri Zhirkov moving to Chelsea.

Sources in Moscow say Stamford Bridge owner Roman Abramovich has held preliminary talks with the Russians over the 25-year-old's summer transfer.

Sportsmail first revealed in January that Chelsea were keen on the Euro 2008 star, dubbed the Russian Ronaldinho.

Wing wizard: Yuri Zhirkov keeps the ball from Aston Villa's Luke Young last month
Zhirkov, who prefers to play down the left wing but can also fill in at left back, is considered one of the best wide men in the world by Russia and Chelsea boss Guus Hiddink and he posseses the pace sadly lacking in the Blues team.

Abramovich and Hiddink saw Zhirkov in action during CSKA's UEFA Cup victory against Aston Villa last month.
Reports in Moscow said Abramovich congratulated the players in the dressing room after the 2-0 win in the Russian capital.

And the oligarch also talked to CSKA president Yevgeni Giner to discuss the preliminary conditions of the transfer, according to Tvoi Den newspaper. CSKA subsequently spurned interest from Bayern Munich and Juventus.

Mission to Moscow: Chelsea owner Roman Abramovich at the Luzhniki Stadium during CSKA's victory against Aston Villa last month
Zico said: 'Zhirkov is a player of such high level that in my opinion he would show all his real potential only playing in such a strong competition as the English Premier League.

'He would easily fit into Chelsea's first-choice team. I don't like to lose him but I won't stop his move to London.'

A winner of the UEFA Cup with CSKA in 2005, Zhirkov was also credited by UEFA with scoring the goal of the 2006-2007 Champions League when he chipped the ball over two opponents, dribbled from the half-way line and then beat the Hamburg goalkeeper.

After Euro 2008, Hiddink said: 'Zhirkov plays very modern game. He's capable of covering all the left side of the pitch alone.

'A player can only do this if he has brilliant technical skills and physical condition. He's top class footballer.'
Chelsea are also thought to be interested in CSKA's 18-year-old CSKA midfielder Dzagoev
Striker shows he is splendid in isolation
For all of last night's positives for Chelsea, Didier Drogba's performance will have given Guus Hiddink most pleasure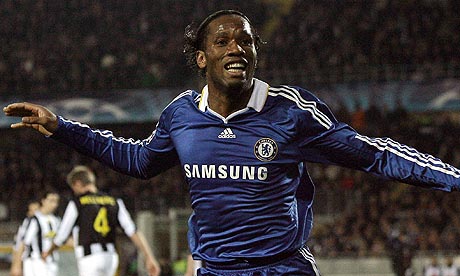 The key to Chelsea's victory last night was Guus Hiddink's decision to restore Didier Drogba to a lone striking role. On his own, Drogba can make his runs independently, moving towards or away from the ball without having to concern himself with combining effectively with a partner. For all Nicolas Anelka's goalscoring form this season, last night Chelsea showed that Drogba is not only their most dangerous attacker when in the mood, but that he actively enjoys the challenge of playing in isolation.
It is not only Drogba who benefits from this formation. With only one striker, and with Mikel John Obi in front of their defence, Chelsea's central midfield have more depth and more room to work. As a result, Frank Lampard was able to get into good forward positions and Michael Ballack passed the ball more comfortably.
Juventus started in sprightly fashion, hustling Chelsea and encouraging their full-backs to chase forward. At this stage Claudio Marchisio and Tiago were nullifying Chelsea's central midfield, pushing on to Mikel and stopping Lampard getting the ball. The home side opened the scoring with a brilliant combination between two strikers in tune. Gianluigi Buffon was not troubled until an amazing finish to the first half.
Chelsea were lucky to win a free-kick against Tiago and Drogba's drive was juggled off the line by Buffon. Then Lampard's deflected shot dropped invitingly to the ever-alert Michael Essien. In the final minute of the half, Chelsea had begun to assert themselves.
Hiddink had reverted to the Chelsea way, with the positions normally occupied by Florent Malouda and Salomon Kalou being taken by Essien and Anelka. The Frenchman played a key role, keeping his discipline on the left side while Essien found his feet on the right. Juventus faded physically and, as expected, their ageing legs could not sustain that level of exertion.
Hiddink will be pleased and relieved that Chelsea came through a difficult fixture. Petr Cech was impressive, Mikel showed maturity, but Drogba's excellence in attack will have given the Dutch manager most satisfaction.
Drogba the difference for Buffon
Juventus goalkeeper Gianluigi Buffon paid tribute to Didier Drogba for his two-goal contribution to Chelsea FC's 3-2 UEFA Champions League aggregate win against the Turin side, but stopped short of conceding the result was proof of the Premier League's superiority over Italian club football.
'International class'
Drogba, who scored after 12 minutes of the opening leg at Stamford Bridge, tested Buffon with a curling free-kick in the first half in Turin before striking Chelsea's second equaliser late on in Tuesday's 2-2 draw. Juventus and Italy No1 Buffon was gracious in his praise of the Ivory Coast forward. "Undoubtedly when you weigh up the performances in the first and the second legs, Drogba showed beyond doubt he is a striker of true international class," Buffon said. "He would make the difference to any side in the world."
No inferiority complex
Though Buffon was prepared to bow to Drogba's quality, he refused to accept that Juve's elimination by Guus Hiddink's side was further evidence, along with Liverpool FC's 4-0 humbling of Real Madrid CF on Tuesday evening, of English football's growing domination of the European scene. "I don't think you can claim this is necessarily another example of English superiority," said Buffon. "We were at full strength in the away leg and I don't think we deserved to lose. In the return leg, we had a lot of players out, Pavel Nedvěd got injured after three minutes and after an hour we were down to ten men so I don't think there is any way you can claim quite that simplistically that Chelsea are a superior side."
'Great shame'
The 31-year-old Italy goalkeeper added that Michael Essien's equaliser on the stroke of half-time was hard to take, but remained sanguine in defeat. "Their first goal was a great shame," he said. "I think perhaps we didn't play the last few minutes of the first half too well. There was a world of difference between going in at half-time 1-0 up or level at 1-1. And in the end having to put three goals past Chelsea was a tall order. But we still have the league to play for and although we can't promise anything we will give our utmost until the very end and, if nothing else, look to reduce the [seven-point] gap between ourselves and Inter."
Chelsea almost robbed as official fails in the line of duty
It was the moment when even those who keep arguing against the introduction of technological goal-line assistance at major football games surely had to acknowledge that enough is enough.
Millions of pounds hinge on the outcome of a Champions League match like this and when a goal as clear as Didier Drogba's just before half-time is not given because of the incompetence of a linesman, it makes a nonsense of the sport's biggest club event.
If Michael Essien had not scored seconds later just before the break, this could easily have been an episode which cost the Blues a place in the quarter-finals of the Cup. Football can no longer afford for such crucial issues to be decided by such outrageous fortune.

It happened thus; with Chelsea desperate to get back into the game and gaining some control at one down, Drogba curled the ball goalwards from a free kick and Gianluigi Buffon stretched too late to his left, actually appearing to touch the side netting as he clutched the ball.
The naked eye did not lie; an Italian journalist in front of me immediately turned round sheepishly and offered the snap he had just taken on his camera. The ball had been over the line by a clear foot.
Everybody knew it. A noisy stadium went quite silent, as if recognising this was the cheekiest bit of thieving in Turin since Michael Caine and his boys carried out their Italian Job.
The face of the world's number one keeper was a picture of "who me?" innocence as he quickly plucked the ball from behind the line and made a pointless gesture towards the linesman who had allowed him to get away with blue murder.
Chelsea seemed so stunned, they didn't even protest but it was a scandal all right. If they had gone into the break one down, rather than being relieved to celebrate Michael Essien's comeback goal moments later, the whole tenor of the game would have been completely different.
What those two moments demonstrated, though, was just how right Michael Ballack had been before the match when he talked about how the "power" and spirit of the old Chelsea had been rekindled under Guus Hiddink in just a few weeks. The disallowed goal was not a signal for self-pity but for resilience.
And they needed to demonstrate it because, at a Stadio Olimpico bristling with atmosphere and intent, this really did feel like Guus Hiddink's first true examination.
This was what Juve had been missing in their naughty boys' exile, one of those European Cup mega nights, only not in their old Stadio delle Alpi with its atmosphere lost in cavernous concrete â " the miserable old place is being renovated - but in the compact, seater temporary home at the Stadio Olimpico. At least here, so the joke goes, you could feel as if you were experiencing that rarest of phenomena â " the Turin crowd.
Chelsea were meant to feel intimidated, as if they'd stepped in front of a herd of 27,000 stampeding zebras, and when the home fans tried to unfurl a giant banner pronouncing "YES WE CAN!" just before kick off, but singularly and embarrassingly failed, Chelsea could only hope it was an omen.
It wasn't. The early exit of Pavel Nedved through injury, prompting thoughts from his fans that this might be the last time they saw him in European action, only served to inspire the home side.
Soon after, a sweet combination between Trezeguet and Vincenzo Iaquinta ripped holes in Chelsea's rearguard. The man the Bianconeri always look to, Alessandro Del Piero, suddenly awoke too.
Because he too stood by his Old Lady after the scandal, Del Piero's stature here is beyond compare. He had been given two matches off by Ranieri to prepare himself for this contest and also offered twin support in the shape of both David Trezeguet and Vicenzo Iaquinta.
The introduction of the attacking trio looked like Ranieri's big gamble but, with Chelsea looking distinctly rattled and nervous after the goal, summed up by Cech's comedy flap at one cross, Del Piero started enjoying the stage he has graced here for 16 years man and boy.
One free kick snapped in from about 35 yards was preposterous in its ambition but was a signal of the general Italian confidence. Steel was needed and Essien's return was a godsend.
After the disallowed goal, it was his remarkable alertness for a man who had only played one game in six months which allowed him to surge forward and latch on to the rebound off the bar. Chelsea could only hope it was enough to ensure a scandal wouldn't k.o them.

Russian Football President: Hiddink Could Stay At Chelsea
The president of the Russian Football Union (RFU) hinted yesterday that Guus Hiddink may be considering an extension at Chelsea.
11 Mar 2009 22:50:57
President of the RFU Vitaly Mutko revealed his fears that Guus Hiddink may give up his responsibilities at the helm of the Russian national team for a permanent deal at Chelsea.
Speaking to the press, Mutko said that he believes Chelsea are among the only sides Hiddink would consider coaching on a less temporary basis due to their global appeal. Mutko believes that any
coach
would relish the opportunity to manage the Stamford Bridge outfit.
"I don't think he would agree to join any club other than Chelsea, not because of his special relationship with Roman Abramovich, but because Chelsea is the kind of global side that any coach would like to manage."
It is testament to Mutko's statement that the Dutchman has enjoyed such success since taking over at the club, the Russian believing Hiddink will come under increasing pressure to stay should the impeccable run of form continue.
What lies in store for Hiddink's future really boils down to whether Russia can find a replacement for him, as the combination of managing both teams would be too demanding and no doubt encounter conflicting schedules.
"At the moment we have an agreement with Guus Hiddink that he will combine the two posts only till the summer," Mutko said.
"Of course everything can change, but we should take into account that, for Hiddink, it is better to work with a national side. He is not only a coach but also an organiser, a politician — not a club man."
Chelsea fans stabbed in the rear by Juventus thugs
Around 1,500 Chelsea fans travelled to Turin last night to see their side earn a place in the final eight of the Champions League, but two Londoners found themselves subjected to some of Italy's less hospitable supporters.
Before kick-off, the Chelsea fans were stabbed, and were taken to hospital with injuries to their derrieres.
Such attacks are said to be common "greetings" from Italian football hooligans, who clearly aren't aware that a simple wave and smile is much more polite.
Gunners fan 'stabbed' in Rome
Rome's suitability to host the Champions League final will be questioned once more after an Arsenal fan was apparently stabbed on Wednesday.
Ahead of the Gunners' penalty shootout victory in the Stadio Olimpico, a supporter was attacked, the British Embassy in the Italian capital claimed, when the minibus in which he was travelling lost its way close to the stadium.
In the latest worrying incident of football hooliganism in the city, it was suggested a group of home fans targeted the vehicle and attempted to force their way inside.
"One managed to get on to the bus and there was a fight," an embassy spokesman said.
"The driver managed to get away when the Roma fan was pushed out of the bus."
The victim was able to watch the match after receiving medical care, the spokesman revealed.
He added: "We don't know if it was a stabbing or glass from a smashed window."
An Arsenal spokeswoman said: "A male Arsenal fan was believed to be stabbed outside the stadium.
"Roma fans threw stones at a bus, smashing windows, and an individual allegedly entered the bus and stabbed a fan."
A Foreign Office spokesman said: "We are aware of the incident that happened in Italy and we are providing consular assistance."
Arsenal's fans had already been warned to avoid certain areas of the city by their club after a string of ugly incidents over recent years.
"If you travel to the stadium independently, please be aware you are at risk," stated the booklet circulated by Arsenal.
"Do not take trains to the Piazza Flaminio or attempt to use the Ponte Duca D'Aosta bridge as these are habitual routes taken by the 'Ultras' (Roma's hardcore supporters).
"Please stay away from the Campo De Fiori."
The Italian capital has come under the microscope in the wake of several high-profile incidents in recent years, most notably when a number of Manchester United fans were wounded in clashes with Roma fans in two separate incidents in the city in 2007.
City officials had been warned by European football's governing body, UEFA, that any serious acts of hooliganism between now and the May 27 final could see the showpiece moved elsewhere.
It now remains to be seen whether UEFA still have confidence in Rome to host a trouble-free showpiece in two-and-a-half months' time.
Stabbing of visiting fan in attack by 'Ultras' confirms club's worst fears
CHELSEA SWEEP UP POSITIVE FUTURE AWARDS
Posted on: Tue 10 Mar 2009
Chelsea's community coaches have been rewarded with four out of eight Positive Futures Awards at this year's ceremony held at Park Plaza Hotel in London.
The vital contributions made by Yusuf Jimacale, Ricky Dewey and Billy Thomson have been acknowledged by the youth offending organisation for their dedication and determination to improve both themselves and their communities.
Chelsea Community Coach Ian Jordan also won the special award for Exceptional Contributions to Young People's Development.
Yusuf, Ricky and Billy started out as participants on the club's social inclusion projects, designed to divert young people away from crime and anti-social behaviour.
Yusuf initially came to our Hammersmith & Fulham Kickz programme through a love of football and within weeks he was demonstrating the sort of leadership qualities to become a popular coach who is also the driving force behind his college football team.
Yusuf has now taken various courses gaining Community Sports Leaders and volunteering qualifications and is taking an introductory course in youth work.
'What inspired me to do this is just the work that the coaches do. We don't just cover football; we actually have one-on-ones with the children and find out what they want to do,' said Yusuf.
'It is just good to get credit for the work we have been doing. It motivates me and I want to keep doing it.'
Ricky, aged 19, has shown similar dedication. Having initially started as a participant on our Wandsworth Positive Futures scheme, he has demonstrated a passion for developing himself and others on the programme.
After successfully completing a Prince's Trust course and both Level One & Two FA coaching qualifications, Ricky is now a coach on our Positive Futures & Kickz social inclusion projects but still finds the time to volunteer extensively within his community.
'Basically the main thing that inspired me was putting myself on the right path,' said Ricky: 'To me the award is a big step forward. It is a bigger incentive; it makes you that bit more motivated, I know I can still go further as well.'
Billy was also awarded a special prize for his contribution to volunteering. After being a participant on our Westminster Kickz Programme for almost one year, he now holds his Level One Certificate in Coaching Football and is delivering coaching sessions to Primary School PE lessons. He has recently become a paid employee at Chelsea.
Ian Jordan was surprised but honoured to land the Exceptional Contributions to Young People's Development.
'It's a great honour to be a representative of the great work we as a club do with the community and London as a whole,' explained Ian.
'Our award winners deserve recognition for their hard work. The role model thing does work, so you can see there is a path to progress to work for a club like Chelsea.'
Chelsea's Kenyon and Barca's Laporta involved in high-level discussions
Chelsea chief executive Peter Kenyon and Barcelona president Joan Laporta were two of the big hitters representing England and Spain at UEFA's Professional Football Strategy Council meeting in Nyon this week. The well known figures were part of an eighteen man panel, which also included UEFA president Michel Platini, discussing a range of issues affecting the modern games.
The major talking point to come out of the meeting was the unanimous decision by all four groups represented (associations, clubs, leagues and players) to agree in principle a ban on international transfers of minors – players aged under 18 – either into Europe or within Europe.
"The question of minors is above all a moral and ethical issue – we have a duty to take concrete steps to protect young players and training clubs," said UEFA President Michel Platini. "I am delighted that the key stakeholders of the European football family have a common view on this major subject and I welcome the signature of this important resolution," he added.
The meeting was attended by the following persons:
Representatives of the associations (UEFA)
Michel Platini (UEFA President)
Senes Erzik (Turkey)
Geoffrey Thompson (England)
Angel María Villar Llona (Spain)
Gerhard Mayer-Vorfelder (Germany)
Representatives of the clubs (ECA)
Maarten Fontein (Netherlands)
Michele Centenaro (General Secretary)
Peter Kenyon (England)
Joan Laporta i Estruch (Spain)
Representatives of the leagues (EPFL)
José Luis Astiazaran (Spain)
Lex Gold (Scotland)
David Richards (England)
Frédéric Thiriez (France)
Emanuel Macedo de Medeiros (General Manager)
Representatives of the players (FIFPro Europe)
Gerardo González Movilla (Spain)
Leonardo Grosso (Italy)
Philippe Piat (France)
Theo van Seggelen (Secretary General)
Mick McGuire (England)
Representative of FIFA
Jérôme Valcke, General Secretary
UEFA Administration
David Taylor, General Secretary
Agent: Ibra and Jose may move to Madrid
The agent of Inter Milan striker Zlatan Ibrahimovic has claimed that both the Swedish striker and Inter manager Jose Mourinho could both be heading for Real Madrid at the end of the season.
Mourinho, whose side faces Manchester United in a crucial Champions League last 16 clash on Wednesday, only took charge of the Nerazzurri last summer following the sacking of Roberto Mancini.
But he has already fallen out with both the Italian media and his Serie A rivals on several occasions, despite guiding Inter to the top of the table.
But Mino Raiola, Ibrahimovic's agent, has revealed that the Santiago Bernabeu in Madrid could be the Portuguese's next port of call along with the Swedish striker, who is also believed to be a target of Barcelona.
"I am sure that Mourinho does all that he can to go to Real Madrid," he told Il Giorno.

"He forced Massimo Moratti to spend 45million euro and now he's winning thanks to Roberto Mancini's earlier signings.
"If Zlatan decides to move, then he'll move.

"We keep receiving new bids. Real Madrid and Barcelona would do everything they could to get him. Ibra would score 40 goals a season in Spain."