Cristiano Ronaldo has told Italian television that Manchester United are stronger than Inter and he is better than Zlatan Ibrahimovic.

The two teams go head-to-head in the Champions League later this month and the Portuguese international has no doubts on the victors.

"Inter are a strong side with great players, but we are better than them and I firmly believe we'll be able to beat them," he assured on RAI television.

"By eliminating Inter, we can feel a step closer to the Final."

Jose Mourinho stirred up controversy in December when he announced that Ibrahimovic was "a better player" than Ronaldo and more deserving of the Ballon d'Or.

"I respect everyone's opinion, but the trophies that count are in my house," grinned the United star.

He also blamed Inter and Mourinho for failing to get the best out of Ricardo Quaresma, who was sent on loan to Chelsea just six months after signing.

"Ricardo has great quality and it's a shame he didn't get the chance to prove his true value," continued Ronaldo.

"He was wonderful at Porto and with the Portugal jersey, so he cannot be judged on the basis of just a few games that were not up to his usual standard.

"It's probably the fact he was bought for so much money that put excessive pressure on him and it's not easy to do well in Italy straight away."



Ronaldo on goals and opposing fans
Manchester United winger and World Player of the year Cristiano Ronaldo has revealed that he has targeted beating his 42 goals that he notched up last season.
Ronaldo has so far scored 14 goals in all competitions this season - meaning that he must hit the back of the net at least 28 times to match his phenomenal scoring from last term. Ronaldo did miss a part of the season through injury at the start of this campaign whilst also taking into account that he has a long summer as he featured in Euro 2008 for Portugal.
Ronaldo was quoted as saying "I've improved every season and last season was the best, but I want more. "This season I want to score the same amount of goals, or more. It will be hard but it's possible."
He also responded about the abuse he still receives from opposing supporters:"It's normal for me now. If it doesn't happen, I'm thinking, 'Why aren't they booing me?' Maybe they think if they boo, I'll lose my concentration but it doesn't happen. I like it."

Zola - We stood up to leaders
Hammers chief admits one moment made the differenceLast updated: 8th February 2009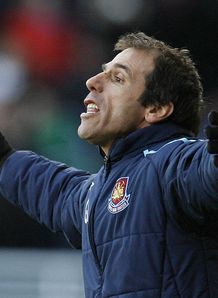 Gianfranco Zola was proud of how his West Ham United team stood up to Manchester United, despite the 1-0 defeat.
The Hammers' six-match unbeaten run in the Premier League came to an end courtesy of Ryan Giggs' individual goal in the second half.
But West Ham matched the leaders for long periods, with Carlton Cole having his side's best chance in the first half when his attempted chip was saved by Edwin van der Sar.
Zola was happy with how his team restricted the opposition's chances and believes it is an indication of the progress being made at Upton Park in recent weeks.
Good sign
"I think it's a good sign, for certain, because it has been a close game," Zola told Sky Sports.
"I believe that our goalkeeper made only one save, so I think it was a close match.
"That's the difference when you play the best team in the world, if you make one mistake you pay and it's costly.
"I'm very happy with the performance of my players. It was a tough match and they stood up to Man Utd in a very good way."
The West Ham boss did not want to criticise Cole, who has been called up to the England squad to face Spain, for not taking advantage of his team's best opening.
Zola added: "He wanted to chip it over and maybe he should have gone for power, but to be honest he has played a great match.
"I can't say anything to him and in the second half there were a couple of chances where we were close."
The Italian continued: "I don't just see the defeat, I see the way the team plays and they stood up to the best team in the world right now and they played just as well as them."
Gianfranco Zola: I Won't Ditch West Ham United For Chelsea
The little Italian has insisted he won't walk out on the Hammers, not even to take up a more lucrative offer on the other side of London...
In the early months of Gianfranco Zola's reign at West Ham United, it seemed quite possible that budding manager could be sent back to Italy with a dismissal notice in his pocket.
However, things have gradually turned around for the Irons under the former Azzurri star's guidance, and they now sit eighth in the Premier League standings after going unbeaten in their last six games.
Thus, the 42-year-old has been tipped as one of the top candidates to take over from the under-fire Luiz Felipe Scolari at Chelsea, whose title hopes are vanishing fast with every passing week.
But the Stamford Bridge legend has voiced his commitment to West Ham, and he hopes to repay the club for taking a gamble on such an inexperienced gaffer.
Zola told
The Mirror
, "In football you never know what lies round the corner but I have no intention of walking out on West Ham. I owe a lot to them. Not many clubs would have given me this opportunity.
"My main concern is to do well here and repay the faith West Ham and their supporters have shown in me. It's not in my nature to walk out on something that has only just begun."
West Ham sit 16 points behind Chelsea, who slipped to fourth in the table after Hull City held them to a goalless draw yesterday.
Mike Maguire, Goal.com
Kaka out of derby but foot not broken
Reuters - Today, 14:39
MILAN- Brazilian midfielder Kaka has been ruled out for at least 15 days with a foot injury, his club AC Milan said on Sunday.
The playmaker, who was injured during Saturday's 1-1 Serie A draw with Reggina, will miss Brazil's friendly with Italy on Tuesday and next Sunday's league derby with Inter Milan.
"Kaka reported a trauma to his left foot. The checks made after Milan-Reggina did not show any kind of fracture," Milan said in a statement.
"The prognosis is at least 15 days," a later statement added.
Kaka scored a 67th-minute penalty to give a lacklustre Milan a point at home to bottom club Reggina but soon asked to be substituted after taking a knock.

Fergie: This title's far from over
By Ben Blackmore , 08 February 2009
Sir Alex Ferguson warned his Manchester United players the title is far from secured, despite Sunday's win at West Ham.
United moved two points clear of Liverpool, with a game in hand, thanks to a Ryan Giggs' winner on what is something of a bogey ground for the champions.
Yet another clean sheet at Upton Park has just added to United's growing aura of invincibility, but Ferguson insists there is still plenty of work to be done.
"Mistakes can be made," said the United boss.
"We had an 11-point lead over Arsenal in 1998 and lost the league, so we are not counting our chickens.
"We shouldn't either because this game can come and bite you. This is a fantastic result and performance. It is time to kick on."

Barcelona Pretty In Pink Next Season - Report
The Blaugrana may be decked in pink on occasion next season, as Nike prepare a revolutionary new kit...
Barcelona are preparing a revolutionary pink shirt to use next season.

According to El Mundo Deportivo, Nike has created a pink shirt that will showcase a 'chromatic revolution.' The only issue to be decided is whether it will be the second or third shirt.

Barca are also planning to bring back the orange shirt, which will assume one of the positions.

A pink shirt is not without precedent in the Primera Division. Dani Alves has already played in one, as Sevilla used it as their third shirt in the 2007-08 season. Espanyol also had a pink alternative shirt last season.

The most famous pink shirt, however, belonged to Alaves, who wore it at times during their famous UEFA Cup run of 2000-01.

Other famous clubs to have worn pink shirts include Juventus and Benfica, while Scotland wore one in a friendly against Germany in 1999. There are only two clubs, however, who wear pink as their traditional colour: Palermo, and Sport Boys del Callao, of Peru.

Arjun Miglani, Goal.com


Gareth Barry May Still Leave Aston Villa - O'Neill
The transfer story that simply won't go away has raised its head once more.
Aston Villa manager Martin O'Neill has admitted that despite his side's superb form this season, skipper Gareth Barry may still leave the club.

O'Neill's side beat Blackburn Rovers 2-0 yesterday, a result which moves them above Chelsea and into third place in the Premier League.

The Villans are also still in the UEFA Cup, have made it through to the fifth round of the FA Cup and look odds on to claim Champions League football next season.

However, this may not be enough to keep Barry at the club and O'Neill has warned that should his side fail to claim European football for next season, they could risk losing their skipper.

"Gareth was true to his word that he would stay in January," he told the News of the World. "If we keep the momentum going who knows? But if we don't qualify for Europe, things will be in the balance."

Barry was linked throughout the summer with a move to Liverpool, however the proposed deal fell through after the two clubs failed to agree a fee for the midfielder.

The situation appeared to cause a falling out between Barry and his manager with the Villa boss stripping the England international of the club captaincy.

Barry has since been in impressive form for Villa, and has temporarily regained the armband in the absence of injured skipper Martin Laursen.

However, O'Neill also suggested that should Barry decide to move on in the summer, he wouldn't stand in his way. He concluded, "Having given this season, I don't think anyone would begrudge him the opportunity to move."

Gill Clark, Goal.com

Roman ruins: Fans turn on Big Phil as Russian owner sees Chelsea drop further behind in title race

By IAN RIDLEY
Last updated at 4:55 PM on 08th February 2009
Chelsea fans rounded on manager Luiz Felipe Scolari last night as their side suffered another setback to their fading title hopes with a goal-less draw against Hull at Stamford Bridge that will leave owner Roman Abramovich desperately disappointed.
A large banner was unfurled demanding the sacking of the Brazilian World Cup-winning manager, who was also subjected to a chant of 'You don't know what you are doing' from home supporters. At the final whistle, jeers also rang around the ground.
Feeling the pain: Chelsea's manager Luiz Felipe Scolari shows his frustrations as his Blues side grind out a goalless draw against Hull at Stamford Bridge

Once invincible at home, Chelsea now look vulnerable and have dropped 16 points in 13 home league games. They have slumped to fourth in the table behind Aston Villa and have failed to score in their last two games.

But if Scolari hoped for the focus to move away from his difficulties during this week's internationals, Liverpool's Xabi Alonso ensured Frank Lampard would not escape the spotlight by re-igniting their row.
Living on a prayer: Frank Lampard knows Chelsea are not making their lives easy as they chase the Premier League crown

The Chelsea midfielder was controversially sent off during his side's 2-0 defeat at Anfield last week and although the FA overturned his red card on appeal, Spaniard Alonso insisted Mike Riley made the right decision.
The bitter rivals could face each other again on Wednesday when Spain play England in a friendly in Seville and Alonso said: 'As far as I am concerned, Lampard's tackle was a hard and unnecessary piece of play.
Letting it be known: Some Chelsea fans have lost faith in Scolari

'He says he went for the ball, but I saw his leg going straight towards my ankle.
'I don't think he was going for me but those sort of challenges are always dangerous. Honestly, I was very lucky because it could have caused me a serious injury. When I saw my opponent's foot on my leg I feared another injury like the one in that past season. Jumping saved my ankle.

Hull's Richard Garcia beats Salomon Kalou to the ball on a frustrating day all round for title chasing Chelsea

'For me, the challenge was dangerous and received the card that anyone, Lampard or any other footballer, should receive.'
The bad blood between Lampard and Alonso dates back to a Premier League game on New Year's Day 2005 when Lampard's challenge left Alonso with a broken ankle. And last week Lampard said: 'Ever since, he has that look in his eye when we meet, and there is always a bit of shoving and jostling'.