Eboue disputes red card
Gunners midfielder makes case for defence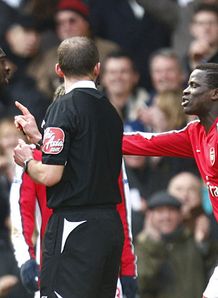 Emmanuel Eboue has apologised for his sending-off against Tottenham, but the Arsenal midfielder feels referee Mike Dean was wrong to issue the first of his yellow cards.
The Ivorian was dismissed in the 37th minute at White Hart Lane, after invoking the wrath of Dean first for dissent and then for a petulant kick-out at Spurs midfielder Luka Modric.
While accepting his trip on Modric was deserving of a booking, Eboue insists he did nothing wrong in the incident that led to his first card.
"I am sorry," he told the club's official website. "This game was very, very important for us. We must always win when we play against Tottenham and give our best for the fans.
"I am so disappointed to get the red card but I say thank you to my friends [team-mates] who gave everything. We drew and we are happy. It is a good point for us after playing so long with 11 v 10.
Injustice
"For the second booking, I touched him. I put my leg up because [Modric] had touched me before in front of the referee and he did not say anything. He kicked me when I tried to go forward and I put my leg up. The second card is normal, I accept it.
"For the first yellow card I did not say anything bad.
"I was in front of the ball and I was talking with Manuel Almunia. After that I said [to the referee] you have to whistle before and he said okay. I came back to take my place and then he called me and gave me a yellow card. I don't really understand why.
"But for me the referee was not good today."
Eboue had the ball in the net 13 minutes into the goalless draw but was penalised for a push on Jonathan Woodgate, a decision Gunners boss Arsene Wenger branded 'not acceptable'.
And the Frenchman's words have now been echoed by Eboue: "It was a goal," the 25-year-old said.
"I don't know why he did not give it. The referee said I touched Woodgate but I did not."
Fabregas, Adebayor & van Persie To Leave If Arsenal Miss Out On Champions League - Report
A trio of Gunners could flee the Emirates in the summer if results don't improve this term...
The News of the World claims that Cesc Fabregas, Emmanuel Adebayor and Robin van Persie will hand in transfer requests if Arsenal finish outside the top four this season.

Fabregas has often been linked with Barcelona, where he flourished in the youth ranks before moving to England as a teenager. The injured skipper has denied rumours of an imminent return to his homeland, but he has made no secret of his frustration at sitting in the stands while his side continue to drop points.

Adebayor was expected to leave Ashburton Grove last summer, but the Togolese striker stayed put after he and the board reached a compromise over his wage demands. Milan and Barca were both interested but pulled out after being quoted around €40 million.

A clutch of clubs have been keeping tabs on van Persie's situation, as the Dutchman is currently embroiled in slow-moving negotiations over his contract. Real Madrid are thought to be keen on the classy forward, as are Juventus and Barca.

Arsene Wenger would obviously be highly reluctant to let any of these three players leave, as they constitute the core of the team's forward play, but he may have little choice if things continue on their current path.

An unnamed source was quoted as saying, "There is a real problem developing because the big names are bemused at the way things are going.

"If Arsenal finish outside the top four, there's no way the likes of Van Persie, Adebayor and Fabregas will hang around. They love playing for Arsene Wenger but they also want to win things.

"And, as things stand, they can't see that happening. It's not about how much money they can earn, it's about winning trophies for these guys."

Arsenal are currently languishing in fifth, four points behind fourth-placed Chelsea and some 11 points adrift of Premier League leaders Liverpool.

Mike Maguire, Goal.com


Barcelona target leading Arsenal trio
• Van Persie tops list that includes Fábregas and Adebayor
• Gunners prepare for summer squad overhaul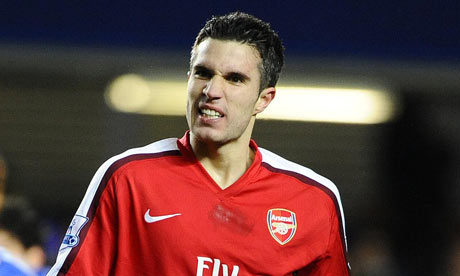 Barcelona have placed the core of Arsenal's team on a list of planned ­summer reinforcements, with Robin van Persie a priority target. The Spanish league leaders had an offer of cash plus Alexander Hleb rejected last month but believe they can persuade Arsenal to sell in the close season when he enters the final 12 months of his current contract.
In addition to recruiting Van Persie as a left-sided attacker, Barcelona are working on approaches for Emmanuel Adebayor and Cesc Fábregas. While they do not consider it possible to capture all three in a single transfer window, Barça regard Arsenal as "a selling club" and expect the London club to release at least one of their star names to raise funds for reconstruction of their own squad.
Van Persie is considered the most attainable because of his contract situation. The 25-year-old has less than 18 months left on his present deal and is stalling on an extension that would make him one of Arsenal's best paid players. Van Persie is understood to be concerned about Arsenal's failure to compete for ­silverware in recent times.
Barcelona attempted to exploit the uncertainty last month with a cheeky offer to return Hleb in part exchange. Still angered by the manner in which the Belarus midfielder engineered his exit from the club last July, Arsenal refused to countenance Hleb's return.
Adebayor is coach Pep Guardiola's choice as a replacement for Samuel Eto'o, who has also entered the final 18 months of his current contract. While other ­members of the Camp Nou hierarchy would prefer a move for Valencia's David Villa or Karim Benzema of Lyon, ­Guardiola's stock is high after an impressive start to his reign as coach.
Fábregas remains a long-term target for the club who lost him to Arsenal as a teenager. Though Barça are confident that Fábregas would return, the strength of the club's midfield this season has made his recruitment a less pressing issue.
Arsenal, meanwhile, are preparing an overhaul of their own with signs emerging that the club will invest heavily in one or more established players in an attempt to make their first team more competitive. The club is also aware of the threat to expensive corporate ticket sales posed by their recent difficulties in domestic competition – a concern that partially explains the atypically fevered purchase of Andrei Arshavin last week.
Arshavin Warns Wenger: I Will Speak My Mind
Trouble could brew at the Emirates Stadium as the little Russian goes against the Professor's grain...
New Arsenal signing Andrei Arshavin has stated that he doesn't care who he upsets and will not hold back from speaking his mind when he feels the need.

The little Russian playmaker made his long awaited move from Russian league side Zenit St. Petersburg in the final hours of the transfer window and is Arsenal's new club record signing, moving to north London for a fee of £16.95 million.

The 27-year-old has said that he finds it hard to hide his dislike for someone and has warned Gunners' boss Arsene Wenger that he will not refrain from speaking his mind.

Speaking to The People, Arshavin said, "Sometimes I find it hard to hide my dislike of certain people. It may be bad but that's just me.
"I like to speak my mind - it has earned me enemies. I am better sometimes than at other times, but I am always honest."

The Russia international believes the way to repay fans faith in him is to play well and score goals and he is sure to warm to Gunners' fans everywhere if he puts this theory into practice.
The experience is new for the dynamic playmaker, as it's the first time he has left Russia, having played for his hometown club of Zenit for his whole career.
"Most of the time I am in a good mood, when I feel low I try and hide it from people," he continued. "I try not to let down my fans - my way of repaying their affection and support is to try and play as well as I can.
"Victory is my goal in life. It doesn't matter what I am doing — I want to win. Victory is the reason I walk on to the field. It is the thing for which I keep on training.
"I've never left Russia before. These are new feelings for me and I need to get accustomed to them. Everything in London is going to be unusual and new. But in professional terms I've no doubt I made the right move."
Arsenal fans will be able to see their new prize signing showing his skills in the coming as he regains his match fitness after two months of non-competitive football.
Nick Turner, Goal.com



Fabregas: Hleb watches Arsenal with me
By Jonathan Chong on Saturday, February 7, 2009
Midfielder Francesc Fabregas has revealed that ex-Arsenal winger watches Arsenal matches with him when they are in Barcelona.
Fabregas is in the Spanish city recovering from a long-term injury.
He said: "I watched the Everton game on Wednesday night with Alex Hleb in Barcelona.
"It wasn't being shown on general television in Spain, but eventually managed to find a place where it was on, but it was a very strange place!
"It was nice to watch it with Alex, and I was very pleased for the team that they got the equaliser."

Emmanuel Adebayor To Miss Three Key Weeks Of Arsenal's Season With Hamstring Injury
The talismanic striker is set to be sidelined through a crucial part of the Gunners' season...
Arsenal striker Emmanuel Adebayor seems set to miss the next three weeks through a hamstring injury that he sustained during the 0-0 draw in the north London derby against Tottenham Hotspur this afternoon.

The Togo forward limped off the pitch after pulling up in the 35th minute of the game at White Hart Lane, and will now miss a crucial part of the Gunners' season.

The 24-year-old is set to miss the Premier League game against Sunderland, the FA Cup match against Cardiff City and could miss the first leg of the knockout stage in the Champions League clash against AS Roma.

The loss will no doubt be a big one for Gunners' boss Arsene Wenger but his spirits could be lifted with the return of Eduardo da Silva, who has recovered from the crippling ankle injury he suffered last year and could feature in the coming weeks for the first time in nearly a year.

Wenger's attacking options have also been given a boost by the record signing of Russian starlet Andrei Arshavin, who joined the Gunners at the end of the transfer window last week from Russian side Zenit St. Petersburg, and will surely add some much needed creativity to a depleted Arsenal midfield.

However, the 27-year-old will have to wait a couple of weeks while he regains his match fitness, as he has not played a competitive match for two months since the end of the Russian Premier League season.


Gael Clichy Injury To Keep Him Out Of France Friendly
A setback for the young French full back looking to make his mark on the international stage...
Arsenal left-back Gael Clichy has suffered an international setback after being ruled out of France's friendly next week against Diego Maradona's Argentina in Paris.

The 23-year-old defender limped off after a bad head collision with Darren Bent in this afternoon's Premier League clash between Arsenal and Tottenham Hotspur.

The former Cannes player is being left out of the France game as a precautionary measure, and he should be back to full fitness in time for the Gunners' FA Cup fourth round replay clash with Cardiff City at Emirates Stadium on February 16.

The Toulouse born player made the switch from French football to the Premier League in 2003 after Arsenal manager Arsene Wenger's former connections in France paid off and the attacking full-back made the move to north London for the bargain basement price of £250,000.

Since then, Clichy has made 124 Premier League appearances for the club, scoring just once, and despite a mass of interest from Italy and Spain's big clubs, the 23-year-old has remained at the club.

As yet, Clichy has only made two senior appearances for France, after falling behind the likes of Patrice Evra and Eric Abidal, and the young full-back has had to bide his time in order to get a look in for the first choice left-back spot on the French team and he is sure to get more opportunities in the future.

Nick Turner, Goal.com