English Angle: Chelsea The Best Bet Of The Big Four To Win The Champions League
This weekend's action saw four more wins for for the Prem's finest and revealed why the Blues are the best bet to stop Barca winning in Rome, according to Goal.com's Sulmaan Ahmad


Manchester United Another routine dose of Premier League conformity saw a thrashing, two comebacks - one being closer than the other - and a whirlwind start followed by a capitulation that almost threatened the game's result, but didn't.The big four all reached their destination, by one route or another, while the chasing duo squared off and shared three goals each; each giving their all and in doing so, essentially ruling themselves out of contention for Champions League football next season. Europa League, here they come.Meanwhile, the frail-looking four turn their attentions back to the big time. Three of them undershot in the first leg and their collective dominance is now already under scrutiny. They barely got past their domestic opposition at the weekend - with the exception of the team who have the least hope in Europe - and with every passing day, Barcelona are looking more and more like potential winners.But then, it's never that simple. As good as Barca might be, their chances of winning the trophy can never be greater than 50 per cent and when observing their hypothetical route to the final, it becomes increasingly obvious that if anybody is going to stop them, at this stage it looks far more likely than not that it will be a Prem side.Looking towards Barcelona, from this weekend's action we can at least surmise that Liverpool don't rely on Steven Gerrard quite as much as people think they do. Both Javier Mascherano and Fernando Torres have become more key components in the setup - speaking from a strictly tactical perspective - and that every now and again, the Reds really can dominate a game.It doesn't happen often and, unfortunately, it only seems to happen too late in the day, but what it did show is that if Liverpool make it past Chelsea, they have all the ingredients to be the most likely to eliminate Barcelona as well.Their problem is that they're as good as out already. We all remember what happened in Istanbul, we all remember that Hiddink, in charge of Russia, lost by three clear goals twice to Spain at Euro 2008 and yes, we all remember the Blues shipping three at home against Bolton, because it was two days ago.Three factors here are key:1) This is a two-legged tie, unlike the 2005 Champions League final, and the time between each 'half' to reassess, reorganise, re-energise allows them to head out at Stamford Bridge with a Guus-crafted seventeen-prong gameplan allowing for every eventuality to ensure that, above all else, they do not lose the tie. They will not lose the tie.2) On top of that, the gulf in class between Spain and Russia is far more discernible than that between Chelsea and Liverpool - that is to say if there is a gulf at all.And 3) Yes, they did ship three in nine minutes against Bolton at the Bridge in their own little Istanbul moment, but they were already winning by four and had taken off their key players ahead of Tuesday's showdown. Liverpool not only need to score three but to win by two - and that will only get them extra time.So based on the assumption that Chelsea and Barcelona do what they should do, they will square off in their first ever semi-final. This clash has become a classic, second only to Chelsea-Liverpool in recent years. But this time, there will be no Mourinho, Rijkaard or Ronaldinho. Both sides are mostly the same, but that little bit different.If Barcelona make it to the final, it would take a brave man to bet against them winning it. They already monopolised possession and chances against Man United last year, and that was in the middle of a slump - just imagine what they could do now. Arsenal don't have the resilience they did in 2006, and while they would most likely have the added bonus of their goalkeeper not getting sent off in the early stages, this would be unlikely to affect the outcome when they face a team like their own, but stronger - literally, as well as in terms of the quality they possess.What Fergie and Wenger's men lack is the midfield strength of the Blues - and that could be key to cutting through Barcelona and exposing their less than perfect defence.There of course remains the small matter of fact that should the Blues even manage to overthrow Barca - not to say that they will, but they are the most likely - they will then have to contest a final. What makes them the favourites to win that?They will certainly feel as though they have a score to settle after last year's heartbreak. Drogba in particular, will look to erase the memory of the one big game in which he has not only failed to perform but as good as sealed his side's exit with his late sending off. Guus Hiddink will be a man under no pressure whatsoever, much like Luis Aragones with Spain, knowing that he is already leaving. And lastly, the fact they will have just beaten Barcelona to get to Rome is bound to unearth an insecurity or two in the likes of United, Arsenal or even Porto, with Villarreal highly unlikely to make it to the semis with their injury and consistency afflictions, never mind the final.We cannot underestimate the capabilities of Arsenal on their day, particularly as they now have fourth place sewn up in the league and are unlikely to care too greatly about the FA Cup. And United, of course, even when they look flimsy, can turn out a result like the best of them. It's Chelsea who are peaking at the right point to succeed in the pressure cooker environment of Champions League football.What may motivate them most of all is that this really could be their last chance for a couple of years, as a new cycle beckons, with no Hiddink in the picture and it may - not will, but may - take time to get back here again.
Sulmaan Ahmad, Goal.com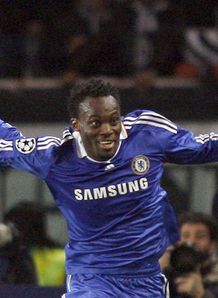 Essien - All about the team
Blues midfielder happy to play anywhere for Hiddink

Michael Essien insists he is willing to do any job asked of him by Chelsea manager Guus Hiddink.
The powerhouse midfielder caught the eye with an exemplary man-marking job on Liverpool captain Steven Gerrard in last week's 3-1 win at Anfield in the first leg of the UEFA Champions League quarter-final.
Essien reined in his natural box-to-box instincts to keep Gerrard quiet after making an impressive return from a knee injury.
He scored against Juventus in the previous round of the Champions League on his first start back, but Essien insists the team's performance is always the priority.
Respect
"Everybody said I must have been very happy with the goal, but for me, it is all about the team work," said Essien.
"We did a good job in Turin and it was a very positive result, so that is what is most important. I don't play for myself, I play for the team.
"I'd describe myself as a box-to-box midfielder, but I'll always respect the manager's decision, wherever I'm picked to play.
"Against Juventus it was a tactical move to put me on the right to try to stop the runs of Pavel Nedved.
"I always listen to the manager and I just go onto the field for every game and do what he asks me to do. So I don't really mind where I play as long as I'm out there doing a job for the team and the manager."
Hiddink is in charge of Chelsea until the end of the season and Essien admits the players are keen to send the Dutchman on his way with a trophy.
"He knows how to talk to his players and he has his own style which is very different to the others I've played for here," revealed Essien.
"Hopefully we can win something for him before he leaves. But we'll see what happens, We've got some really big games coming up that aren't going to be easy.
"We'll just have to try our best and make sure we win those games.


Hiddink demands correct attitude
First leg result: Liverpool 1-3 Chelsea Uefa Champions League, Quarter-final second leg Venue: Stamford Bridge

Guus Hiddink is wary of the threat Liverpool present
Guus Hiddink has demanded Chelsea's players put his summer exit out of their minds when they face Liverpool in the Champions League on Tuesday.
The Dutchman said: "If the players are underperforming because the manager is leaving at the end of the season, it's not the right professional attitude.
"We're very sharp on that attitude. Even though I'm not here next year, they have to respond.
"If they don't, they're not equipped to be at a big club."
On Monday, the day before the quarter-final second leg against Liverpool, Chelsea confirmed Hiddink would leave the club and return to a full-time role with Russia at the end of the season.
Chelsea won the first leg 3-1 at Anfield but they go into the game on the back of conceding three late goals in their 4-3 win against Bolton on Saturday.

Horse-Power
"Going 4-0 up against Bolton and then conceding as we did was like an alarm clock ringing for this upcoming game," Hiddink added.
"We should have controlled the last part of the game. We can concede one, but that one alarm bell should be enough.
"We've prepared very seriously for Liverpool. A lot of people have said that if you win an away game in Europe like we did, then you won't have any concerns for the second leg. But we're not thinking like that.
"Liverpool are a very good team who play beautiful football and we're very aware of that. There is no reason to have complacency against any team, but especially Liverpool with what they have done in the past."

Chelsea v Liverpool: Rafa: 'We must use lessons of Istanbul'

Liverpool have nothing to lose and maybe even a Premier League to win, as they travel to Stamford Bridge tonight.
That was the message from boss Rafa Benitez yesterday, as he insisted that the Champions League showdown with Chelsea could offer a springboard towards glory.
The Spanish coach accepts that the odds are stacked against his side as they try to reverse a devastating 3-1 setback from the first leg of the quarter-final.
But Benitez believes his team can now go out and play without pressure, express themselves and show the sort of pride that could provide a lift in the remaining weeks of the season.
With Liverpool needing to score at least three times to reach a semi-final against Barcelona, Benitez has called on his players to summon up the spirit of Istanbul where his side fought back from 3-0 down to win the European Cup against AC Milan four years ago.
Guus Hiddink's team will be without their captain John Terry who is suspended, and after conceding three goals in seven minutes to Bolton on Saturday, the Blues may have doubts lingering at the back of their minds.
"If we do get through, then it would be fantastic for the fans and for the club, and it is a good message for the players to use the lessons of Istanbul," said Benitez. "That showed anything is possible. And Chelsea will be confident after beating us...and that could just be dangerous for them, you never know.
"In football, it is always dangerous to believe you have the job done when it isn't. When you have conceded three goals in your last game, as Chelsea did, then clearly you are a little nervous, and there may just be some doubt in their mind."
Benitez has his own doubts over the game, most particularly in whether to risk skipper Steven Gerrard for a tie his side most probably now can't win.
The midfielder has responded to treatment on a groin injury, but even though he is desperate to play, he isn't fully fit, and the manager knows his presence would be a risk, given that the league title is also at stake.
"He wants to play, that is clear, and if he is available then we would want him from the start, because it is a risk with an injury like that to come on cold as a substitute with a different type of warm-up," explained Benitez.
"But we will have to see. He has played before with this injury, but now we need people who are 100 per cent fit. It is not a massive risk...it would be a calculated one, because we could lose the player for 10 to 15 days if he breaks down."
Chelsea v Liverpool: Guus lays down law: 'History tells us if we take Reds for granted we're in big trouble'


Guus Hiddink last night laid down the law for his Chelsea side as he told them: "You must NEVER underestimate Liverpool."
Chelsea run out against Rafa Benitez's Reds as odds-on favourites to complete their passage to a fifth Champions League semi-final in six years after their Anfield masterclass.
Champions League history makes even grimmer reading for the Merseysiders, with 24 of the 25 sides who have lost the home first leg in the competition having been eliminated.
Yet, as Hiddink ordered his men to go for the jugular again and not give Liverpool even a glimmer of hope of a momentous comeback, the Dutchman admitted Benitez's team are the one side in Europe you cannot afford to write off.
Hiddink said: "There is no room for complacency, whatever the team you are playing against.
"But when you are playing Liverpool, especially with what they did in the past, you know you cannot have any at all.
"I don't like to depend on luck. It gives you an excuse most of the time and we've prepared very seriously.
"A lot of people have said that if you win an away game in Europe like we did, you won't have any concerns for the second game.
"But we're not thinking like that and we must not think like that. Liverpool are a very good team who play beautiful football, and we're very aware of that."
Fernando Torres scored against Chelsea to take last season's semi-final meeting into extra-time and also opened the scoring last week before Branislav Ivanovic's set-piece threat and Didier Drogba's super finish put the Blues in control.
And while Hiddink hopes Michael Essien can again bottle up Steven Gerrard, he thinks keeping Torres under wraps is the key to progress.

Steven Gerrard injury boost for Liverpool

Steven Gerrard is set to be fit in time for Liverpool's Champions League clash with Chelsea tomorrow night according to boss Rafa Benitez.
Gerrard has been struggling with a groin injury, but Benitez today revealed his captain was responding well to treatment ahead of the crunch match at Stamford Bridge.
"Steven is getting better, he has been working with the physio and will train later today," he said.
"We will then discuss the situation with the doctors, but Steven will travel with the party to London and I will make a decision tomorrow".

"We are 3-1 down and we know that everything can change if we have Steven in the side and he plays well."
The Reds will also have midfielder Javier Mascherano back from suspension, while Chelsea will be without captain John Terry, who is banned after being booked during the Blues' 3-1 first-leg victory at Anfield.
Jose Bosingwa remains a doubt for the Blues with a hamstring injury.